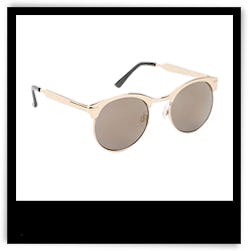 At RZ HQ, we have come to think of metallic pieces as the new neutrals. That is, they can be mixed and matched (or mismatched) with pretty much everything in your closet. Test the theory out for yourself with these lustrous adornments.
Urban Outfitters , Rounded Sunglasses, $39
Swap out your classic clubmasters for this glossy gold pair.
CC Skye , Mirror Clutch, $275
An antidote to a lackluster look, CC Skye's mirrored leather clutch will see to it that your fall wardrobe shines.
Mango, Glitter Leather Gloves, $50
Incorporate subtle sparkle into your cold-weather outfits with these glittery gloves, offered in both black and gold.
Ash, Metallic Wedge Sneakers, $275
Run around town comfortably without sacrificing height in these eye-catching metallic wedge sneakers.
Missoni, Metallic Zigzag Crochet-Knit Headband, $140
A little Missoni goes a long way, and this burnished headband proves it with a signature zigzag pattern and plenty of glisten.