Rodger's Pick: Mr. Kim Cole Beanie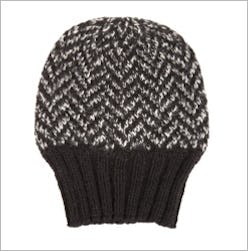 As a man of many beanies, Rodger's latest pick fittingly comes in the form of a cozy, lightweight topper that belongs in your beau's fall accessory arsenal ASAP. Straight from headwear heroine Eugenia Kim's equally-chic line for men, Mr. Kim, this slouchy herringbone beanie is high in quality and packed with style suitable for year-round wear. Keep this Rodger-recommended buy on your radar; it makes a way glam gift for the holidays!
Availability: Mr. Kim Cole Beanie ($195).