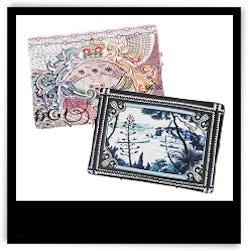 Chances are, your computer is one of your most cherished possessions. So, why not treat it as such by clothing it in a pretty printed case. Mary Katrantzou has a few delightful options to swoon over!
Offering leather padded protection from all mishaps, these brilliant cases promise to keep your device safe from harm, whether stowed inside your day bag or, better yet, carried out in the open because each sheath is too chic to not show off! Available in three playful styles, the series echoes Mary Katrantzou's vibrant sensibilities in eye-catching hues of lavender, sunflower, aquamarine and more. Is your laptop already covered? Consider scooping up a punchy pouch versionfrom the London designer instead!
Availability: Mary Katrantzou Laptop Pouch ($708). For additional information, visit Marykatrantzou.com.