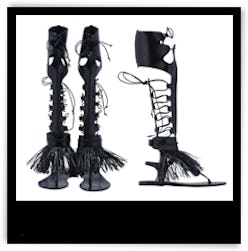 Happy Coachella! As a salute to the Woodstock-like festival, we are highlighting a concert-appropriate pair of shoes today: Marios Schwab x Ancient Greek Sandals High Greek Sandals.
But, didn't you just show us six of your favorite gladiator styles, you ask? Yes, but this major footwear pick was just too good to pass up! The meeting of two minds, designer Marios Schwab and go-to gladiator company Ancient Greek Sandals, resulted in these leather flats, which feature drool-inducing details of raffia fringe, self-tie laces and an adjustable ankle-strap with buckle closure. We die! Need ideas of what to wear them with? Scope out our 30 Days Of Festival Style picks.
Availability: Marios Schwab x Ancient Greek Sandals High Gladiator Sandals ($590). For additional information, visit Ancient-greek-sandals.com.