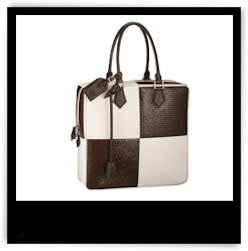 We're simply crazy about checks for spring! You may recall a certain pair of black-and-white Givenchy booties that we recently praised, but now we're coveting some arm candy to match. Fitting the bill flawlessly is Louis Vuitton's Damier Optic Cuir GM Handbag.
Capturing the geometric spirit of Louis Vuitton's spring show, this structured satchel resembles a classic checkerboard on account of its two-tone square design. Made with, wait for it, 28,000 sequins, each securely stitched onto its square leather base, the carryall is the perfect pick to lend a glamorous touch to your day-to-day wear. Pair it with a ruffled blouse, flared jeans and a floppy fedora for an outfit that will be tough to beat.
Availability: Louis Vuitton Damier Optic Cuir GM Handbag ($4850, available at select Louis Vuitton locations, 866.VUITTON). For additional information, visit Louisvuitton.com.