Loud Love Jewelry Designer Shares Her Favorite Tough-Chic Pieces + 10% Off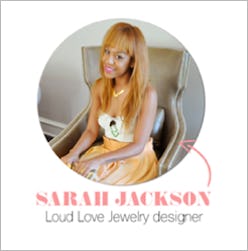 When it comes to covetable gems with a cool-girl edge, Loud Love Jewelry has the look mastered! Founded by designer Sarah Jackson, the up-and-coming LA label first caught our eye last summer with a distinctive range of personalized pieces, and has remained on our radar ever since. In preparation for your own summer accessorizing, check out a few of Jackson's most cherished Loud Love pieces shown today, and don't hesitate to add one or more to your bauble collection. Shop now through 5/5 and receive 10% off by entering code ZOE at checkout!
Click through to discover Sarah's favorite pieces!
Top Finger Rings, $45 and up
"All of these rings are great to wear alone or on a finger that already has a ring. I like to stack 3 of the Victory rings together, mixing silver, rose and yellow gold!"
Armor Necklace, $217
"My favorite everyday necklace! Great layering piece and can also be worn as his & hers."
Solid Heart Ring, $265
"Rock this ring with any fun floral or bohemian-styled outfit."
Star Necklace, $205
"I love this piece because it adds a pop of color to any outfit and brings out the colors you're already wearing."
Total Victory Necklace, $293
"This necklace is a great statement necklace that can be transformed from day to night!"