Ziplock Bags, Be Gone: Shop 10 Stylish Pouches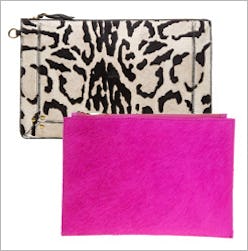 Are you still using Ziplock bags at TSA checkpoints? Or, has digging for Chapstick at the bottom of your purse become harder than your daily workout? Well, struggle no more! Snatch up a practical pouch and we promise your storage woes will be gone for good.
3.1 Phillip Lim 31 Minute Cosmetic Bag, $350
Let's just say this is the gold standard of makeup cases.
ASOS Leather and Faux Pony Clutch, $51
This neon pouch will add a pop of unexpected color to a neutral leather tote.
Jerome Dreyfuss Large Popoche Clutch, $525
Spotted: A fierce zipper clutch for storing everything from No. 2 pencils to lip liner.
Joie Darcy Clutch in Moss, $118
Use this beauty for travel essentials like lip balm, barding passes, and hair ties. Practical and posh.
Mugler Silver and Black Pouch, $885
Nicola Formichetti's holographic accessory is ideal for those who won't settle for anything less than eye-catching.
Kenzo Embroidered Textured-Leather Pouch, $230
Trust, you'll be quite a sight for sore eyes with this evening-appropriate clutch.
Lizzie Fortunato Safari Clutch, $333
For those who have yet to attempt the day-clutch, this floral find would bloom quite well with denim skinnies and plain, white t-shirt.
French Connection 'Get Your Kicks' Bag, $68
Stow your camera and chargers in this retro-chic case for a weekend getaway.
Gap Two-Tone Leather Pouch, $30
Add a preppy vibe to double denim with this two-tone clutch from Gap.
Manish Arora Printed Leather Large Pouch, $408
SciFi and totally stylish, this pouch deserves to be paired with an out-of-this-world ensemble: a.k.a. your best GNO attire.