Lana Jewelry's Precious Stone Collection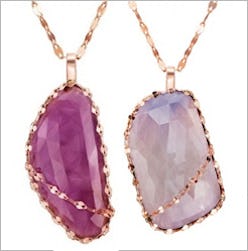 While we love bold and eye-catching baubles, there's something so chic about delicate and minimalist chains and earthy precious stones. So when we discovered Lana Jewelry, which features understated pieces with a twist, we knew our obsession had met its match. Founded in 2002, Lana Bramlette proves there's truth to the mantra "less is more" with her latest lust-worthy StoneGold collection, which features large chunky stones (a maj summer trend) that up the color quotient on her signature gold chains.
They're perfect for an occasion as dressy as a summer soiree (think effortless maxi dresses) or as casual as a music festival (denim cut-offs paired with your go-to t-shirt, naturally)—or even worn this fall with a textured knit, skinny jeans and heels (we can't wait). No matter where you go, the happy medium between the roughness of the precious stones and the polished sophistication of the gold chains will make for exquisite additions to your jewelry boxes. We're totally smitten!
Availability (from left): Eden Pendant Necklace, $830; Ellipse Stone Necklace, $1300; Azure Stone Earrings, $2000.