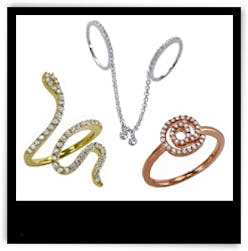 By now you've probably jumped onboard with the concept of "man repelling", a term coined by the one-and-only Leandra Medine and her blog of the same name. But today, we're shining the spotlight on the stylephile's brother, Haim Medine, founder and designer of Khai Khai Jewelry. While Medine provides a stunning selection of charms, earrings, necklaces and bracelets (including drool-worthy hand chains), we've decided to hone in on the delicious array of rings offered in his collection.
With the stylish, strong and persistently young-at-heart consumer in mind, Khai Khai, named after Medine's childhood moniker, merges the unique elements of costume and fine jewelry for a truly creative and avant-garde compilation. In a slew of fun styles—including snakes, punctuation marks, spiders, stars and more—the collection finds the ideal blend of edge and sophistication that's covetable in everyday baubles. To pack a serious sartorial punch, team today's ravishing rings with a knit pullover, zip-up skirt and strappy sandals—you'll yield an inspiring ensemble even the Medines would be envious of!
Availability: Khai Khai Jewelry Rings ($630-$2995). For additional information, visit Khaikhaijewelry.com.
P.S. Defined by quality, sleekness and wearability, J Brand's versatile spring collection is beyond covetable—and we curated our 20 favorite looks from the lineup!