The Unexpected Accessory Trend It Girls Are Obsessed With
Jackson Lee /† Splash News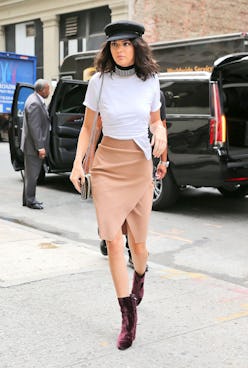 When we start to notice our favorite style stars all donning a certain piece, we have an inkling that it's going to blow up. (The resurgence of the choker is a great example.) And the latest accessory to foray into It girl territory is something we didn't see coming—the newsboy cap. Giving the wide-brimmed fedora a run for its money, these hats that are often reminiscent of Charles Dickens novels have been given a modern makeover with leather trimmings, flashy buttons and luxe textures. Seen on Kendall Jenner and Emily Ratajkowski, the of-the-moment extra comes in multiple styles, ranging from the traditional pageboy to nautical versions with braided rope. Each one can add a hint of boyish charm to a look when paired with edgy separates. Shop eight of our favorite options ahead and wear the trend before it's everywhere.
This Is The New Fedora
Kendall Jenner wears the Saint Laurent Sailor Hat in New York.