Meet Fine Jewelry Designer Karma El Khalil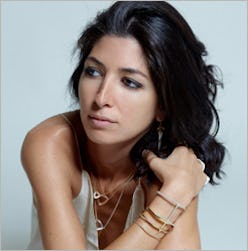 Known for iconic emblems and geometric shapes rendered in fine, luxurious materials, designer Karma El Khalil continues to wow us with one lust-worthy jewelry collection after the next. Here, the D.C-born-Nigeria-raised designer shares how she got her start, the inspirations behind her line, and the most beloved trinket in her own collection.
How she got her start… "After I got BA in psychology, I was accepted to a wonderful master's program in London. A few weeks before my move I was informed that an error in the university's computer system caused my application to get registered for a different program and that the one I had applied for had already filled up. In the spirit of soothing what seemed at the time a painful dissolving of my life's pursuit, I started drawing jewelry for myself. Encouraged by a jeweler friend who I showed my drawings to, I ended up manufacturing a few pieces. These pieces attracted interest enough to keep me furthering design until the day I fell completely and soulfully in love with it."
Her favorite piece of jewelry… "My Trilogy ring, which was born from a mistake during the design process. There is great value in understanding that a lot of beauty comes from the unexpected, the unplanned and what escapes the confines of your control."
The one piece of jewelry every woman should own… "A classic pair of stud pearl or diamond earrings, as they would bring a discreet and elegant luminosity to the side of a woman's face. And a simple thin and long gold chain, which would attract a constantly moving shimmer of light to a woman's neck.
The inspirations behind her line… "Designing is my gateway to discovering, capturing and describing my world—a means of concretizing my interpretation of beauty. Dream and love are huge reasons for my creation. So travel, eating, looking at art, beautiful scents—surrounding myself with beauty deepens the source from which I draw my inspiration from."
Her biggest challenge as a designer… "I compile sketches on a daily basis, which I then gather and have to pick a few for the collection. I end up having to leave many out, which is always a difficult decision."
The jewelry trend she loves right now… "Anything that has movement and color! Fringe is my recent favorite."
Ready to check out the line? Shop 8 of Khalil's magnificent gems right here.