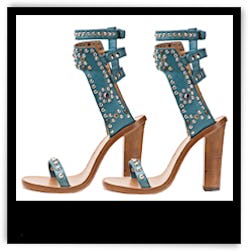 Few designers send sartorial chills down our backs quite like Isabel Marant. The epitome of effortless cool, Marant presents one covetable collection after the next, and this spring's selection is no exception. Our feature du jour, the designer's Charlotte Sandal, is a spot-on representation of Marant's sleek aesthetic that we just simply worship.
Featuring a high-posted, cutout ankle shaft and multi-tonal studs, Marant's open-toe shoe will take your style to all new heights—literally—with its 4.75-inch wooden heel. A must-have for the season, the bejeweled beaut also comes in a chic black version for those who prefer a more toned-down option. On the runway, Marant styled her shoes with a feminine paisley dress, so we're following suit with our own take on the runway look: Dolce Vita's Elka Sandalsteamed with a bohemian dress, neutral leather bag and bright nail polish.
Availability: Isabel Marant Charlotte Sandals ($1035, available at Isabel Marant, Los Angeles, 323.651.1493). For additional information, visit Isabelmarant.com.