Introducing: Illesteva Handbags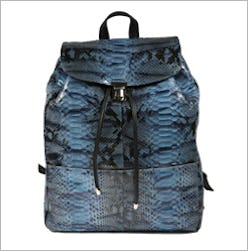 Like every cocktail ring needs a fresh manicure to go with it, every stylish pair of sunglasses deserves a handsome place to be stowed in between wears. Illesteva certainly kept this in mind with their recent foray into handbags!
Known for their cool, classic eyewear, Illesteva does not disappoint with their recent arm candy expansion. Ranging from clean, sleek leather backpacks to edgy camouflage-print clutches, the debut collection, fully hand-made in Germany, is best classified at the axis of luxury and functionality. Explore the sought-after selection in its entirety now, land on a favorite, then dream of all the autumn adventures you could have together!
Availability: Illesteva Handbags ($690-$2650).