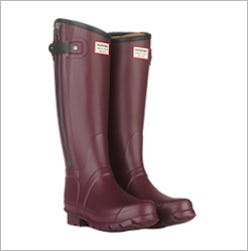 On a rainy day, when staying indoors isn't an option, you need a great outfit that'll also keep you warm and dry. Enter: Hunter's chic collab with Rag & Bone. The 9-style capsule collection launched earlier this month, just in time for fall shopping (and chilly, drizzly weather), and we couldn't be happier with the results.
Available in shades of army green, navy, oxblood and black as well as two heights, these equestrian-inspired rain boots work with rustic, country-ready outfits as well as sleeker more urban ones. While a luxe ribbed sweater, skinny jeans, and an oversized tote is a stylish go-to, the black pair in the lineup would also look chic with opaque tights, a mod shift dress and red lipstick.
Shopping for rain boots might never provide the same thrill as combing the racks at an amazing vintage store or buying heels right off the runway, but Hunter and Rag & Bone have successfully made the process a whole lot chicer. We can't wait for the next rainy day.
Availability: Hunter for Rag & Bone Rain Boots in Army Green, Navy and Oxblood ($295 each).