How To Layer Your Necklaces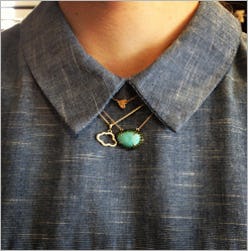 Accessorizing is all about enhancing your personal style. Specifically, the jewelry you choose and how you wear it helps to define your look. For today's story, we turned to the RZ Studio styling team for insider tips on how to layer necklaces. Check out the cool combos we came up with!
Profit From A Peter Pan Collar
Layer a few delicate chains underneath a Peter Pan collar for an unexpected, peek-a-boo look. Stick to 2-4 layers; anything more than that will look too cluttered.
Get The Look:
1. Khai Khai Cloud Charm Necklace, $735 2. Jennifer Zeuner Mini Heart Necklace, $176 3. Phillips House Multi-Stone Necklace, $1350
Elevate A Basic Tee
Give your go-to basic tee a luxury upgrade with a few glamorous strands. Don't be afraid to mix and match different metals and chain lengths.
Get The Look:
1. Anita Ko Medium Dagger Necklace, $4400 2. Anita Ko Crested Wing Necklace, $7620 3. Adina Reyter Tiny Diamond Necklace, $98
Double Up Longer Chains
Don't discount your longer necklaces. Wrap one around twice for a layered look, then add an initial or word necklace for a personalized touch.
Get The Look:
1. Melina Maria Chain Necklace, $170 2. Lana Jewelry Love Signature Necklace, $720
Offset A Business Button-Up With Edgy Charms
Incorporate an edgy element into your work uniform while still remaining professional with a few punk-chic charms. Choose chains that are similar in size for the cleanest look.
Get The Look:
1. Big Bang NYC Pendulum Necklace, $78 2. Khai Khai Zeus Charm Necklace, $1050