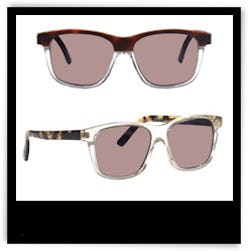 Just when you thought you had every pair of sunglasses you could ever want, a new fashion-forward pair of frames enters your line of sight. Cue: House of Waris for Illesteva Sunglasses. Did the room suddenly get brighter, or is it just us?
The product of a heaven-sent collaboration between two CFDA-nominated labels, House of Waris jeweler and Illesteva sunglass supplier, our frames du jour provide all of the shade and style you'll require in the coming months. Representing the off-duty-cool genes of both brands, the Wayfarer silhouette comes in four versatile colorways and is strikingly unisex in design, so don't be surprised if your boyfriend tries to steal 'em! Did we mention these stunners were handmade in France too? Sun protection à la mode!
Availability: House of Waris for Illesteva Sunglasses ($260). For additional information, visit Illesteva.com.