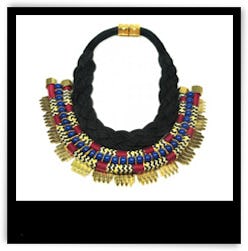 You've probably assessed by now that your Team Zoe editors are fervent fans of the statement necklace trend. After all, a truly extraordinary collar adornment can elevate an ensemble to immeasurable heights. Today, we're providing you with not one, buttwo must-have mixed-fabric options from Holst + Lee! More than a seasonal necessity, these lust-worthy baubles can easily be incorporated into the festival wardrobe that you're currently assembling.
Dubbed the Isis and Cleopatra, these two standout pieces from the label's spring collection feature wide, regal braids with contrasting jagged metal plates and earthy layers of wrapped cord and mesh. True representations of the brand's creative aesthetic, these ornaments will instantly lend an artsy, handmade and tribal-cool appeal to your look. For a laid-back yet ultra-chic getup, try one of Holst + Lee's necklaces with a textured jacket, denim shorts and ankle-strap sandals.
Availability: HOLST + LEE Mixed Fabric Necklaces ($535). For additional information, visit Holstandlee.com.