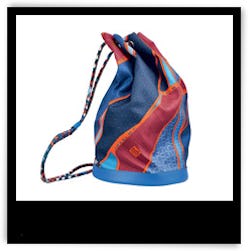 Known for its iconic bags, bangles, silks and scarves, Hermès always keeps us on our toes. This season, the luxury fashion supplier has unveiled a new sure-to-be classic carryall. The Sac Soie Cool, which blends two of the brand's most beloved signatures—leather and silk—embodies the chic simplicity of the Hermès house while also boasting a playful, contemporary twist that's ideal for spring and summer.
Available in two of the label's timeless scarf prints—the Carré en Cravate and the Brides de Gala—today's supremely luxe buy will lend a timeless air to your day-to-day ensembles, and undoubtedly become a piece you'll treasure for years to come. The satchel's name is a play on words: since "soie" has two different meanings in French, it can be translated to convey either the "be cool" bag or the "cool silk" bag. But no matter which interpretation you prefer, this beaut will certainly have you saying, "Hand over the Hermès!"
Availability: Hermès 'Carré en Cravates' Soie-Cool Bag ($2050, available at Hermès stores nationwide, 800.441.4488). For additional information, visit Hermes.com.