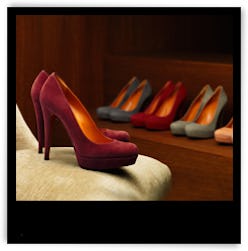 We can spot a shoe lover from a mile away (it takes one to know one), so we have a hunch you will fall hard for our subject du jour: Gucci's Betty Heel. A most iconic design from the Italian fashion house, she is as striking as she is versatile, and now she is offered in a chain of prepossessing styles. To get you properly acquainted, we pulled our ten favorite pairs.
Intended to incorporate an element of flair into your everyday, these shoes will pump the life back into your step. From classic round-toe to savvy peep-toe and darling t-strap silhouettes, painted in a range of modern hues and prints (hello, zebra!), you would be hard-pressed to find a more perfect sole to see you through every autumn occasion. Whether you want to shut it down at the office, update your weekend wear or elevate a holiday party getup, if you place your bets on Betty, you'll come out on top every time.
Availability: Shop 10 takes on Gucci's iconic Betty Heel now at TheZoeReport.com.