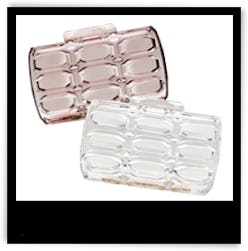 In terms of dress code, we like to think occasions can be divided simply into two categories: those that require a clutch and those that don't. So when one is called for, why not select a memorable option? Take a peek at Gucci's Aristographic Plexiglass Evening Clutch and you'll get an idea of what we mean.
Clearly a chic counterpart for an evening out, this see-through beauty brings to focus the Lucite trend, which has been incessantly present on our minds the past few seasons. Designed in three attractive variations—transparent, smoke and light pink—the minaudière mimics a gemstone pattern for an effect that is beyond sleek. Is your go-to party frock in need of a modern update this season? Grip on to Gucci's translucent treasure and you'll stand out at every spring soirée!
Availability: Gucci Aristographic Plexiglass Evening Clutch ($1150). For additional information, visit Gucci.com.