Introducing Graz Studio's Standout Sunnies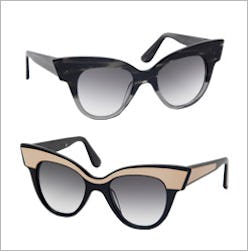 We have a serious addiction that we'll lovingly diagnose as an "incurable proclivity towards sunglasses." The latest offerings from Aussie label Graz Studio have only further indulged our haute habits—and we're totally fine with that!
Given our weakness for strong silhouettes and retro-style vibes, it's no wonder we fell partial to the brand's funky J-S-B shades. Under the creative helm of Graeme Mulcahy, the core of Graz Studio's design mentality places heavy emphasis on the frames' architecture, incorporating an overt masculine/feminine dynamic into each pair. Intrigued? Snag these standout sunnies from down under as your next statement-making accessory.
Availability: Graz Studio J-S-B sunglasses ($297). For additional information and stockist inquiries contact studio@grazstudio.com.