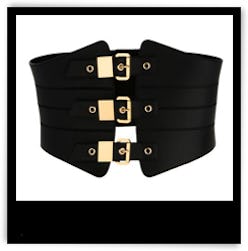 We'll be the first to admit that we neglect to belt our outfits from time to time, so this spring we're on a mission to create shape wherever possible! Taking cues from Giuseppe Zanotti today, the accessory authority's wide leather cincher is certainly speaking chicly to our waistlines.
Though more avant-garde than some of the other belts we have our eye on this season—oh hi, two-tone Etro number—don't let this corset-style add-on intimidate you. Just the thing to bring edge to spring's playful palette of florals and flounces, its seductive black leather, gold-colored brass hardware and triple-belt closure will brilliantly team with a closet of colorful frocks. Need further convincing to delve into the corset trend? Turn to the likes of Ann Demuelemeester and Alexander McQueen for added inspiration!
Availability: Giuseppe Zanotti Design Corset Belt ($850). For additional information, visit Giuseppezanotti.com.
P.S. Are you a disciple of all things Brian Atwood? Be the first to know about the accessory guru's of-the-moment offerings by getting on the list!