This LA It Girl Shares Her Secret For Looking Brilliant All Holiday Season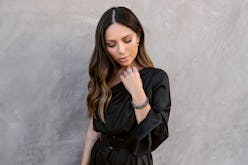 The holiday season, with all its festive parties and celebratory dinners, demands a little extra glamour. While we can't all rock a sequined gown day in and day out—we can add a healthy dose of sparkle to make every ensemble a little more extraordinary. We tapped LA It girl Marianna Hewitt to share the Swarovski pieces she relies on to elevate her look (they also make perfect gifts for her crew) this time of year. Peruse her picks, then spread some shimmer!
Dress up a flawless black dress with black crystal bangles for a flash of sparkle.
Coordinating with your crew is never a bad idea—just stand out with a few thoughtful add-ons like these dainty earrings.
Share some shimmer with a Swarovski gift your friends will enjoy wearing every day.
Share a picture of you and your crew looking extraordinary using #GiveBrilliant.