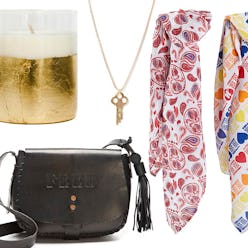 We like nothing more than when shopping makes us feel good. Make this holiday the happiest ever by giving gifts that actually give back. From a set of baby blankets that support the fight against AIDS to a leather purse that helps provide meals to children in Kenya, these carefully curated presents are not only beautiful, cool and useful, they're also philanthropic. Talk about the holiday spirit.
Gifts That Keep On Giving
Trendy Headphones
A portion of the proceeds from these slick headphones benefits (RED), the nonprofit organization founded by Bono and Bobby Shriver in 2006 to engage people in the fight against AIDS.
Custom Stamps
Five dollars from every custom stamp purchased benefits Feeding America, a nonprofit organization that provides food to more than 37 million people through food pantries, soup kitchens and shelters.
Cozy Sweater
The purchase of this sweater—from the charitable women's line made by Phoebe Dahl (granddaughter of legendary children's author Roald Dahl)—translates to a school uniform, school supplies and a one-year scholarship for a girl in Nepal.
Leather Bag
Proceeds from FEED's first-ever leather bags–all handmade by artisans in Kenya–provide 200 school meals for children in the country.
Chic Loafers
10 percent of the profits from these adorable shoes go toward the Sseko Scholarship Fund, which enables young women in East Africa to receive university degrees.
Spa-Day Set
100 percent of profits (up to $100,000) of this limited-edition spa set support Feeding America.
Cozy Throw
Profits from this hand-spun cotton throw support developing artisan businesses in Kenya, India and other countries around the world.
Handmade Robe
For each robe sold, Ten Thousand Villages gives artisans in developing countries the opportunity to earn a fair wage, while being treated with dignity and respect by bringing their products to consumers around the world.
Hand-Poured Candle
With profits from each candle sold, Raven + Lily provide support for formerly homeless women in Los Angeles.
Baby Blanket
100 percent of profits (25 percent of retail price) from this baby blanket 3-pack–designed by philanthropic celebrity mothers Jessica Alba, Gwen Stefani and our very own Editor-in-Chief Rachel Zoe–benefit (RED).
Stackable Bracelets
Proceeds from each bracelet purchased benefit the United Nations Trust Fund to End Violence Against Women (UNTF).
Glam Clutch
For each clutch sold, 20 percent of proceeds go to the Children's Hospital of Los Angeles in support of pediatric cancer research.
Pendant Necklace
The Giving Keys provides jobs to those transitioning out of homelessness by empowering them to make jewelry out of repurposed keys.
Classic Sunglasses
With every purchase of a pair of sunglasses, Toms provides the gift of sight to one person in need.
Metallic Carryall
50 percent of proceeds from each purse go to the Sickle Cell Disease Association, which promotes support, educational materials, service programs and awareness to those affected by the ailment.