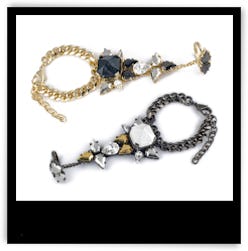 Conventionality is not really a word we understand or relate to within The Zoe Report office walls. On the contrary, we identify with more out-of-the-box, avant-garde attire that keeps onlookers on their toes. Supporting this way of dressing today is Fenton's Kaleidoscope Handchain.
From Fenton designer Dana Lorenz, who shares our passion for all things extraordinary, this eye-catching piece showcases her inspiring, unorthodox aesthetic. Made in both gold and gunmetal variations, the vibrant bauble answers the question of what to wear when you're bored with your typical statement necklace or go-to arm party paraphernalia. Come spring, slip FENTON's blinding beauty over your wrist and prepare for compliments with every handshake!
Availability: FENTON Kaleidoscope Handchain ($325, Paire.us). For additional information, visit Fentonusa.com.