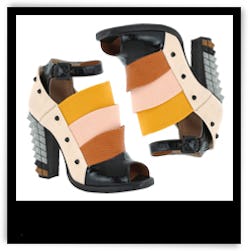 Considering the number of shoes we look at day in and out, we know when a truly extraordinary pair enters our line of sight. Stopping us in our tracks this season are Fendi's Printed Lizard and Patent Leather Booties—a remarkable, arresting duo sure to steal the spotlight of any ensemble.
Flooded with three-dimensional, structural and sharp pieces, Fendi'sspring line was beyond breathtaking, and our feature du jour represents the crème de la crème of the collection. With layers of lizard-print leather and a completely studded heel, this superbly avant-garde shoe is sure to add some serious sartorial substance to any and all getups. But could you expect anything less from a Nicholas Kirkwood-Karl Lagerfeld collaboration? We didn't think so! Waste no time incorporating a like-minded textured twosome into your footwear repertoire for show-shopping style that'll turn heads!
Availability: Fendi Printed Lizard and Patent Leather Booties ($1295, available at Fendi NYC, 212.759.4646). For additional information, visitFendi.com.