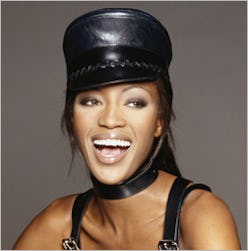 Yet another indication that the nineties are back is the emergence of the mod cap. Sneaking up on us slowly but surely, the newsboy-esque topper (also known as the Breton or motorcycle cap) has been spotted lately on modern-day fashion icons from Kate Moss to Chloe Sevigny.
Though first put on the map in the sixties, thanks to stylish ladies like Nancy Sinatra, the mod cap moment we're taking cues from today happened in September of 1991. Flip through the pages of Vogue that month and you'll find an iconic editorial, styled by Grace Coddington, in which Claudia Schiffer, Naomi Campbell and friends all donned chain-detailed Harley-Davidson hats. We bow down! To channel their biker-chic look in your 2013 wardrobe, try Eugenia Kim's coated Elyse cap with a cropped knit, leather skirt and lace-up sandals. You'll be feeling like a supermodel in no time!
Availability: Eugenia Kim Elyse Woven Silk Hat ($187). For additional information, visit Eugeniakim.com.