Designer We Adore: Elena Ghisellini Handbags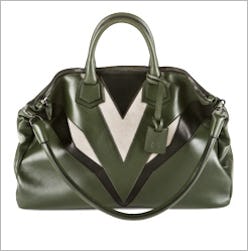 In honor of the upcoming seasonal switch-up, you've got the green light to dive head first into fall shopping! First on your wish list should be a gorgeous bag to take every outfit to its fullest, fashion-packed potential. Coming to mind without hesitation is the newest accessory designer on our radar, Elena Ghisellini.
Noted for timeless sophistication and cutting-edge credibility, which she cultivates each season as Givenchy's head leather designer, Ghisellini makes bags that will find a happy home within any fashionista's grasp. Kick off fall with one of her season-spanning satchels, and you'll exit come spring with a seriously statement-making souvenir!
Availability: Elena Ghisellini Fall/Winter 2014 Collection ($930-$1760 via My-Wardrobe and ElenaGhisellini.com).