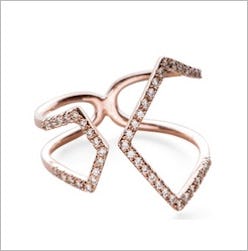 Our addiction to not-so-subtle sparklers is one that must be attended to on the reg. Fortunately, we work in an environment where inspiration is all around us! The latest diamond-encrusted distraction to fall onto our radar—and now yours!— comes courtesy of the RZ Styling Studio (so you know it has to be good).
Meet EF Collection: A new jewelry favorite of celebrities and fashionistas alike. Based in LA, the luxury label offers delicate designs that are so wearable, you'll find yourself decked out in them daily. From angular rings to dazzling drop earrings, we're cleaning out a spot in our jewelry boxes just for EF Collection, and your outfits won't be mad if you follow suit.
Availability: Shop more delicate designs at EFCollection.com.