NYFW Favorite: Eco-Chic Loafers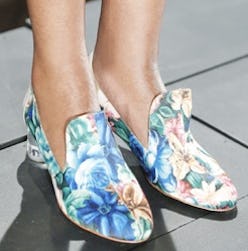 Currently knee-deep in Fashion Week, we're feeling pretty well-versed in all that is new, noteworthy and destined to claim residence in our wardrobe come spring. Our latest loafers du jour come from Arden Wohl x Cri de Coeur's Spring 2014 presentation. Not only do these bold beauts happen to be the chicest shoes you've ever laid eyes on, they're eco-friendly too!
Arden Wohl x Cri de Coeur's on-point partnership assures that style need not be sacrificed when making an environmentally conscious statement. As living proof of this eco-minded mantra stand two lovely, lucite-heeled loafers available in a scintillating taupe-gold and silky, floral print. This treasured twosome is only a sneak peek at Arden Wohl x Cri de Coeur's collection to come, which is jam-packed with stylish soles adhering to the greenest of design standards and under $500. Keep this cool collab on your radar; you can slip into your own pretty pair come spring!