Spotlight: Wrist Wonders Fit For Mother's Day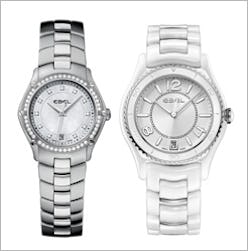 Though some moms may shy away from statement pieces, you won't have to twist her wrist to rock one of these stunning watches! With jaw-dropping details of rose gold, diamonds and stainless steel, each one is certain to spend more time on her arm than stowed away in a jewelry box!
Ebel X-1, $6500
Shaped in polished black ceramic, this diamond-detailed piece will breathe fresh life and luxury into her everyday attire.
Ebel Beluga, $2500
The Roman numerals on this Beluga feel timeless, while the chic blue hands impart a modern touch.
Ebel X-1, $3950
This all-white take on the X-1 will team well with your mom's professional and weekend ensembles alike.
Ebel Onde, $5950
Shower your mom in diamonds that can be worn every day with this classic stainless steel timepiece.
Ebel Onde, $5400
Less expected than your standard wristwatch, this beauty boasts an alligator strap, oversized numerals and a 6-diamond bezel.
Ebel X-1, $2500
Is your mom's style timeless? This sporty, sculpted stainless steel timepiece will be right at home on her wrist!
Ebel Beluga, $6700
This jaw-dropping take on the Beluga incorporates Roman numerals, diamonds and a chic pop of color on account of its bold blue hands.
Ebel Onde, $2950
With a 12-diamond crown, black galvanized dial and stainless steel link bracelet, this timepiece is the perfect piece to complement your mom's favorite LBD.
Ebel Sport, $3200
You can't go wrong with a classic sports watch detailed by diamonds! The Ebel Sport is so sleek mom will want to wear it every day.
Ebel X-1, $3400
How stealth is this chronograph-style watch? It will lend a handsome feel to her ladylike getups.