Spotlight: DKNY Chroma Time Collection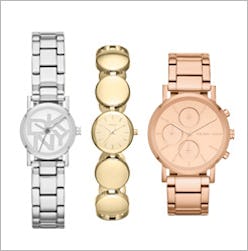 Often overlooked yet as crucial as can be, it's a must for every fashion-minded female to own at least one trendy timekeeper. Here to reclaim all that is modern and feminine in your wristwatch repertoire is DKNY's Chroma Time collection—a compilation so chic and polished, it ensures timeless wear that won't go out of style.
Fashioned to furnish the fast-paced lifestyle of a New York woman, DKNY's Chroma collection puts a sleek, modern spin on classic silhouettes with high-shine tones, mirrored dials and luxe, bracelet-like qualities. Available in lustrous stainless steel gold, silver and rose gold-tones, ditch the concept of a cellphone as your wristwatch and opt to tell time with DKNY's high impact add-on instead.
Availability: DKNY Chroma Time Collection ($95-$195).