Spotlight: Tasteful Timepieces From DKNY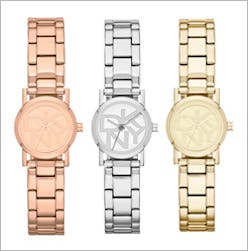 If you're in the market for a striking new wristwatch to add to your daily arm party, DKNY's Chroma Time Collection has you covered!
Carefully curated to include gorgeous styles suitable for every fashion-forward female (think everything from menswear-inspired to delicate bracelet bands), the Chroma Time Collection has become our destination du jour for timeless timepieces that can be worn everyday. A favorite of the batch, the logo dial watch, is an ideal option for layering amongst your other delicate arm accouterments, yet equally as chic when worn solo. Available in three luxurious tones: silver, rose gold and gold and fashioned in a style inspired by modern and elegant femininity, the common wristwatch has undoubtedly met its match—we'll take one in every color, please!
Availability: DKNY Logo Dial Watch In Silver ($135), Rose Gold ($155) and Gold ($155).