Make Your Own Dior-Inspired Necklace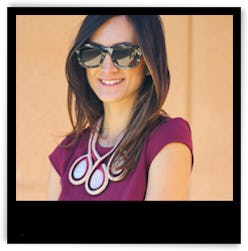 We're all guilty of coveting the designer digs that come down the runway season after season, but let's be honest—our wallets don't allow us to splurge to our hearts desire! Thankfully, Frankie Hearts Fashion blogger Nicole Levine has found a way around that, creating a a budget-friendly version of Dior's lust-worthy fall necklace. Our bank accounts are now breathing a sigh of relief.
Click through to learn how to DIY a Dior-inspired necklace!
What you'll need:
2 ft. velvet cord 2 ft. cotton spiral cord E6000 glue Super glue Needle & thread 3 teardrop stones 2 metal barrels 1 magnetic clasp 1 sheet of felt
Begin by measuring both cords around each stone using the needle to hold them in place. Measure a square around the stone making sure to leave enough room on all sides. Cut it out, apply the E6000 glue to your stone and adhere it to the felt. Repeat 3x.
Measure velvet cord around the stone and cut. Apply E6000 glue directly on felt and adhere velvet cord. Repeat with spiral cord leaving end on the outside of stone (see bottom right). You will repeat this process on one other square, reversing the spiral cord end to the opposite side.
For the middle stone, adhere velvet cord to felt and crisscross cord at the point. Repeat with spiral cord.
Once they have dried, cut felt around each stone. Place all 3 stones together and adhere them using super glue. Once dry, use E6000 glue to adhere each cord together and press firmly.
Using needle and thread, make a few stitches along each side to ensure cord is secured tightly together. Measure cord to desired length and stitch end of cord tightly together. Slide metal barrel on each side. Next, apply super glue in each side of clasp.
After glue is applied, set cord in—you can use tool to push any loose strings in! Repeat on other side and allow necklace to dry overnight.
All done—a Dior-inspired necklace is now yours for the wearing!