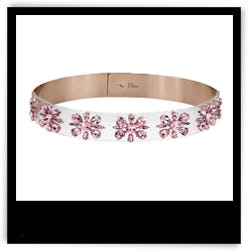 What outfit wouldn't be made chicer with the addition of a little crystal? That's what we're asking ourselves today as we examine Dior's bedazzled cincher. Clear in the front and metal in the back, the accented piece is ready to shape your seasonal style with a pinch of pink!
From Dior newcomer Raf Simons, this brilliant add-on appeals to the girly girl within us all. Whether implemented into your everyday attire or styled with an upscale getup, it is guaranteed to bring the glamour. Our outfit instincts? Wear Dior's crystal belt, or a like-minded versionfrom LOFT, with a jacquard dress, iridescent sling-backs and a metal clutch!
Availability: Dior in Me Belt ($2600, available at Dior boutiques nationwide, 800.929.DIOR). For additional information, visit Dior.com.