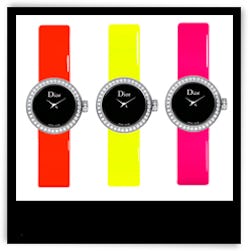 No matter if your style is sophisticated, edgy or somewhere in between, you can always count on bold accessorizing to take your look to the next level. In a dream designer scenario, you could put this theory into practice with a shock to the wrist from Dior!
Challenging all of your preconceived notions about neon, this conspicuous watch channels the best of the '80s for a chic, modern result. A perfect portrayal of design director Victoire de Castellane's over-the-top tendencies, it provides plenty of panache, thanks to a mother-of-pearl dial, diamond-set bezel and patent finish, while still serving a functional purpose. Have you fallen into a dull accessorizing routine? Break out of your rut with La Mini D de Dior Fluorescent Timepiece in one of three bright shades—or Marc by Marc Jacobs' Knockout Watch—and you'll polish off every ensemble with eye-catching color.
Availability: Dior Fine Jewelry La Mini D de Dior Fluorescent Timepiece ($4250, available next month in select Dior boutiques). For additional information, visit Dior.com.