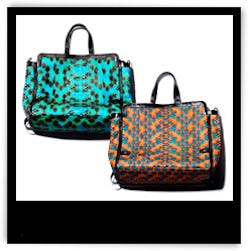 Similar to the harvest patterns of juicy seasonal fruits and vegetables, the brightest handbags always seem to pop up during the spring months. One particular carryall that is ripe for the taking now is Dax Gabler's Dax Shoulder Python Tote. Slip your hands around the handles of this stunner and you'll find your fashion appetite fulfilled through summer—at least!
Ever since Devi Kroell first introduced her too-cool line on the market, we've kept a steady watch on her garden of offerings. So naturally, we are very giddy over every new crop that the accessory maven grows. Delicious as can be, today's textured treasure is begging to supplement your warm-weather wardrobe in all of its radiant python glory. Procurable in mouth-watering turquoise, yellow and orange styles—each with suave leather framing—it will inject a big dose of color into any malnourished ensemble. Hungry for new arm candy and in the market to splurge? Indulge your craving with Dax Gabler!
Availability: Dax Gabler Dax Shoulder Python Tote ($2890). For additional information, visit Daxgabler.com.
P.S. Spring is coming! Start a sleek standard for the season by shopping our 20 favorite new looks from J Brand.