Match Your Cocktail Ring To Your Polish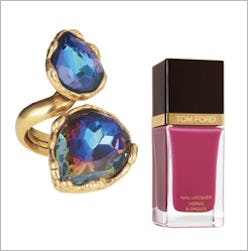 Today, our keen attention to detail goes beyond our closets and into our jewelry boxes as we show you the statement rings you need in your accessory arsenal, plus the pretty polishes that complement them gorgeously.
Gemstone
A clustered gem ring like this one should be matched with an equally as eye-catching lacquer—the more metallic, the better! While you can opt for a color that's lighter for a playful effect, we urge you to apply Dior's similar-shaded shellac for a sophisticated look.
Aerin Erickson Beamon Cocktail Ring, $180
Dior Vernis in Sparkling Plum, $26
Bohemian
This oversized ring is an ideal accessory for stylistas with a laid back, bohemian wardrobe. Perfect for everyday wear and easily dressed up with cocktail attire, you can't go wrong! A piece that incorporates more than one hue should be paired with a polish of the same color family—which is why we choose to team this boho bauble with a teal shade.
Vanessa Mooney Unicorn Ring, $80
Butter London Nail Lacquer in True Teal, $15
Deco-Inspired
Keep your lacquer solid and understated (steer clear of metallics and sparkles) when rocking a mixed-media ring similar to this deco one. Our neutral nail polish du jour is Deborah Lippmann's creamy potion—it literally goes with everything.
Rachel Zoe Lucite Ring, $125
Deborah Lippmann Nail Color in Naked, $17
Iridescent
When dealing with holographic or iridescent jewelry, it's best to pick up on a color reflected in the hardware or stone of your ring and match it with your varnish. For example, we pulled the same popping pink hue in Tom Ford's formula as this unique accessory—pretty maj, right?
Oscar de la Renta Two Crystal Ring, $195
Tom Ford Nail Lacquer in Indian Pink, $32
Crystal
The best part about white crystal jewelry is that it goes with everything. Pair this glamorous get with any color you can dream of—literally! Here, we handpicked a gorgeous, classic red for Old Hollywood-inspired styling.
Dannijo Emery Ring, $163
Julep Polish in Myrtle, $14
Metallic
Make a serious statement with Cavalli's rose-shaped ring. Fashioned in gunmetal grey and accented with hints of gold, we suggest painting your digits with a like-minded color—solid black and golden tones happen to work great, too.
Roberto Cavalli Rose Ring, $505
Tenoverten Nail Polish in Pine, $18