Currently Coveting: Charm Jewelry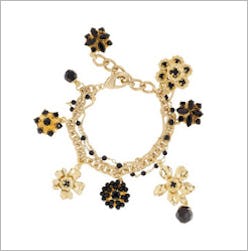 If you're on the hunt for a timeless trinket to add to your accessory repertoire this season, look no further than a chic charm necklace or bracelet. Whether it's a delicate dangler or a chunky cluster you seek, these stunning ornaments are classic, feminine and easy to wear day or night. Take a look at the eight charming selects we're currently coveting.
Jennifer Fisher Gold Large Skull Pendant Necklace, $300
Add some edge to your wardrobe with Jennifer Fisher's of-the-moment skull ornament.
Jennifer Meyer Yellow Gold & Diamond Pendant Necklace, $1800
Personalize your look with Jennifer Meyer's signature initial pendant.
Ileana Makri Tsavorite & Burgundy Diamond Little Snake Pendant, $895
Cool tsavorite and burgundy diamonds give this quirky pendant heirloom appeal.
Minor Obsessions by Finn Diamond Bird Charm Bracelet, $260
We're smitten with this whimsical bird charm bracelet- so chic paired with summer frocks.
Balenciaga Scarab Beetle and Leaf Charm Pendant Necklace, $363
Three dainty charms come together to create a striking adornment on a unique yellow gold pearl chain.
Dolce & Gabbana Floral Swarovski Crystal Charm Bracelet, $546
Lend your look a fabulously feminine touch with this floral piece.
Vince Camuto Tassle Necklace, $78
Make a statement with Vince Camuto's beaded tassle charms.
Sydney Evan Gold Bracelet with Bezel-Set Diamond, $385
This simple-yet-refined chain is a piece you won't ever want to take off.