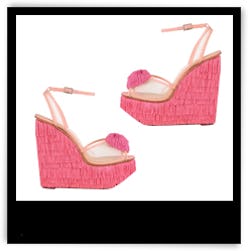 Few designers consistently capture the true essence of a season quite like Charlotte Olympia, one of our most-beloved accessory enthusiasts. For her latest collection, Olympia constructed a succession of shoes that perfectly embody the vibrant, dazzling nature of spring. Which pair strongly caught our eye? We'd have to go with the Gigi Wedge Sandals—an explosion of fringe, fun and fabulousness!
Featuring an open-toe platform with tiered silk fringe embellishment and a pompom detail at the toe, these wedges will elevate each and every ensemble, if not literally, with modern and quirky appeal. Boasting a bright pink hue (a no-brainer shade for the season), the playful duo is an easy way to fill the color quota in your getups. Crushing hard? Treat your wardrobe to a pair of Olympia's prized wedges to wear often! But take caution: once these beauties are secured on your feet (by way of their convenient ankle-straps, natch), you may not want to remove them all spring!
Availability: Charlotte Olympia Gigi Wedge Sandals ($1085). For additional information, visit Charlotteolympia.com.