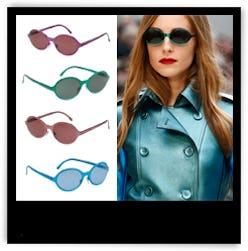 Accessorizing is all about options, so the more you have, the merrier! In the sunglass department, we personally have amassed quite the collection over the years, scooping up sunnies of all shapes and sizes from round, to wayfarer, to cat-eye. Our eye-candy of choice this season? Burberry Prorsum's oval-shaped spectacles!
As their name suggests, these high-fashion frames are certain to make a splash. Merging retro style with modern sensibilities (like 100% UV protected, scratch-resistant lenses), they are a dream addition to any accessory arsenal. If you're craving a fresh set of sunnies to complement your warm weather wardrobe (who isn't?) scope out Burberry's runway pair in four fresh colorways—including classic black, cool khaki, dreamy purple and subdued pink—and you'll see the world in color!
Availability: Burberry Prorsum Splash Sunglasses ($220). For additional information, visit Burberry.com.