Rachel Zoe Finally Reveals What's Inside The Spring Box Of Style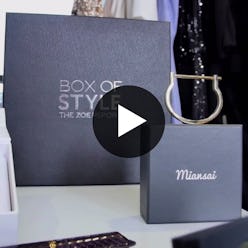 You already know about the fab Miansai cuff and exclusive Zoya nail-polish trio that are in our first-ever Box of Style, but today we finally let you know everything else you can look forward to receiving. Both Rachel Zoe and our in-the-know editors here at The Zoe Report curated the perfect mix of items so you can take on spring in style. Watch as Rachel unveils the contents of the Box of Style for the first time and tells us what she loves most about each of the picks. Spring and summer are officially sold out, be sure to pre-order the fall box now to become a Box of Style member.
The Reveal
The Cuff
Miansai Modern Screw Cuff, $200
A favorite here at RZ HQ, this gold Miansai cuff can be stacked for a cool, arm-party effect or worn solo for a more minimalist, chic look.
The Polish Trio
Zoya Nail Polish Trio, $30
Featuring a custom, iridescent white lacquer created by Rachel and Zoya exclusively for Box of Style, this trio contains the only nail hues you need this season.
The Sunnies
Traveler by TOMS, $68
Talk about the perfect pair of sunnies. We can't wait to see your selfies in these glam shades, so don't forget to share them!
The Mascara
tarte lights, camera, lashes 4-in-1 mascara, $20
Not only does this mascara lengthen, curl and thicken your lashes, it's free of parabens and vegan friendly.
The Styling Tool
Bristols 6 Stylin' Tape, $10
Every fashionable woman needs to keep an arsenal of styling tools on hand at all times. To keep your blouse from slipping and shifting, secure it with a bit of this double-sided tape. Talk about a must-have!
The contents of the spring Box of Style sitting pretty together. Pre-order fall at thezoereport.com/shop