The Best Shoes To Buy At Steve Madden Right Now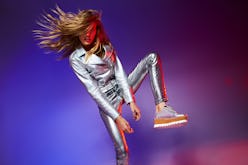 Despite our best intentions, footwear takes a beating because it is, well, on our feet. With this in mind we don't always want to pour the equivalent of a month's rent into something we'll be wearing to stomp through ice, snow and holiday parties. Which is why we're massive fans of Steve Madden, the beloved shoe brand that offers fashion-forward footwear at prices so realistic you can scoop up more than one pair without suffering buyer's remorse. In case you've been too busy buying gifts to notice, they have a wide array of great winter styles from lurex booties to fluffy slides to the perfect over-the-knee boot. Here, our favorites.
The Isaac
If you don't have a suede over-the-knee boot you're need to jump on it! This pair features as moderately high heel perfect for running errands or standing at cocktail parties.
Styling tip: Pair with a thigh-slit skirt and oversize knit.
The Bertie-V
Thankfully the sneaker craze isn't going anywhere soon. Put a luxe spin on the trend with this plush velvet style complete with satin laces.
Styling tip: Pair with a slip dress layered over a skinny turtleneck.
The Serinade
For sleek drama and sex appeal, opt for this thigh-high style which boasts cutouts on the ankle and the toe.
Styling tip: Pair with skinny high-waisted denim, a bodysuit and a robe coat.
The Garrick
Celebrate your inner party girl around the clock with these mod-inspired lurex booties.
Styling tip: Team with kick-flare denim and a bomber jacket.
The Sheena
For holiday parties and warm-weather getaways why not upgrade from traditional gold or silver sandals to a rose-gold pair? We love the sturdy ankle strap which makes these surprisingly easy to walk in.
Styling tip: Team with culottes and a sequin top.
The Carabu
Add some festive flair to your ensemble with these fluffy feathered sandals.
Styling tip: Pair with ribbed tights, a sweater dress and a military coat.
The Laurie
The tough-girl silhouette of these blue velvet boots will continue to be a huge trend in spring, making this pair a great investment.
Styling tip: Wear with leather leggings and a crisp poplin shirt.
The Sofety
Can you think of anything more cozy? Wear these to entertain in style.
Styling tip: Pair with cropped trousers and an angora sweater.
The Squad
Want legs for days? These second-skin boots in slimming black will do the trick.
Styling tip: Wear with black tights and a ruffled, long-sleeve minidress.
The Clearer
Go futuristic with these transparent sandals.
Styling tip: Team with a tuxedo minidress, sculptural earrings and a sleek bun.