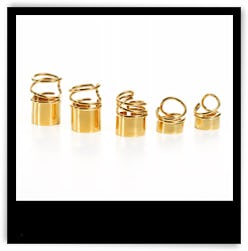 While we're sad to see Nicolas Ghesquière leave his home at Balenciaga, we were thrilled to see that his last collection for the label sent him off with a brilliant bang. Classic yet still incredibly modern, Ghesquière's spring show featured an array of edgy and sophisticated pieces that lived up to his sensational 15-year run at the fashion house. Naturally, the designer's accessories did not disappoint either, especially his Golden "Tube" Brass Rings—a set of effortless add-ons sure to infuse a dash of subtle edge into any ensemble.
Embodying Balenciaga's aesthetic of timelessness mixed with youthful rebellion, today's lust-worthy rings—which come in a set of five— are like little pieces of heaven on earth right on our fingers. Although they would complete any getup with the utmost style, we envision Balenciaga's golden trinkets with lace sweatshirt, metallic skirt and oxford shoes for a seriously sleek and fashion-forward look.
Availability: Balenciaga by Nicolas Ghesquière Golden "Tube" Brass Rings ($765 (set of 5 rings), available at Balenciaga, NY, 212.206.0872). For additional information, visit Balenciaga.com.
P.S. Defy traditional Valentine's Day gestures this year and ask your sweetheart for a little somethin' somethin' from Michael Kors!