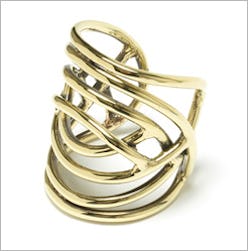 We never underestimate the power of a vintage-inspired accessory, and thus are often led to luxe new jewelry pieces like, say, a certain cool cuff from Anndra Neen!
Crafted of intricate, intertwined brass components, we plucked this bracelet from the brand's stunning Fall/Winter collection for its simplistic sophistication. We envision this transitioning effortlessly from a chic daytime look (boxy top, quilted skirt, patent clutch) to a sultry evening out ensemble—a little slip dress, anyone?! Clamp it on and call it a day—the Eclipse cuff is all you need to complete a statement-making ensemble!
Availability: Anndra Neen Eclipse brass cuff ($475). For additional information, visit AnndraNeen.com.