Make Your Own Tribal Necklace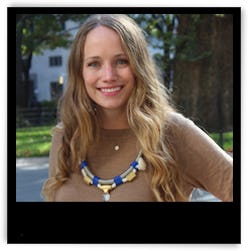 We're equal opportunity employers of various styles of jewelry—from minimalist to out-there, silver or gold, we're likely to own something from even the most obscure of categories. So when Grace from Stripes & Sequins presented us with this tribal creation crafted from some unlikely materials (get ready to hit the hardware store!), we were more than excited to give it a whirl—and a wear!
Click through to learn how to make your own tribal necklace!
What You'll Need:
Start out by taking your bead and gluing it to the T of the brass pipe tee. Thread your rope through the tee and set aside, allowing to dry.
Cut your chain into two equal segments. Then, cut a piece of wire twice as long as the faucet connector, and fold it in half. Thread on one of your segments of chain.
Push the folded wire all the way through the faucet connector, pulling it out all the way when you get to the end. Wrap the wire around the end of the faucet connector, as illustrated.
Repeat steps 4 and 5 on the other side. The ends will now look like this.
Add a jump ring to each side, followed by a clasp to one side. Then, hook your necklace together.
Take your piece of rope, and a small section of colored electric tape. Carefully wrap your tape around both the rope and faucet connector as shown. Repeat on the opposite side.
Add a pipe coupling to each side and then wrap the rope beside it with tape. This is the last step… you are all done!