Make Your Own Statement Necklace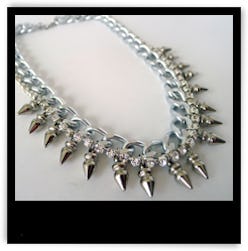 At RZHQ we aim to inspire, and given the backstory on this particular project, we're way excited to present our latest blogger DIY! After spotting our market editor's standout spike collar on Instagram, Erin from Thanks, I Made It was determined to create a comparable version on a pared-down budget. The result? A wear-anywhere piece of jewelry, which by the way looks pretty much exactly like the original, no?!
Click through to create your own statement necklace!
What You'll Need: - Large chain - Rhinestone cup chain - 7mm jump rings - Clasp - Spike charms - Jewelry pliers
Cut both chains to 18 inches and line them up. Open a jump ring by grasping with pliers and twisting the ring open.
Hook the jump ring onto the center link of the large chain and add a spike charm. Then hook the ring around the middle of the rhinestone chain and close the ring with your pliers.
Repeat to add more spikes, spacing the rings and charms evenly on both chains. Once you have enough spikes, use the jump rings to connect the two chains on each end.
Add a clasp and rings to close the necklace, then your piece is complete!