The 5 Coolest Things You'll Find At Chanel's New Vegas Boutique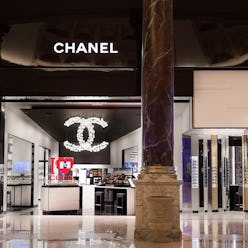 File this under things we couldn't be more excited about: Chanel has just opened its first-of-its-kind-in-the-US retail store for fragrance, beauty and sunglasses in The Forum Shops at Caesars in Las Vegas. Makeup junkies literally won't know where to look first when entering the 800-square-foot boutique, which boasts dedicated areas for skincare and fragrance, as well as the most amazing nail-polish wall we've ever seen and pretty much every shade imaginable of all of our favorite products. Once you've stocked up on your beauty goods, choose the perfect frame for your face in the space's sunglass salon, offering the complete range of the designer's shades. And leave it to Chanel to even make the décor unforgettable: A 12-foot-long chandelier of the CC logo hangs from the ceiling, creating the ultimate dramatic entrance. (As if we weren't already excited enough to walk in.) Of course, you can always shop Chanel goodies at the stores around the country or online, but if you make it to Vegas, here are the 5 things you do not want to miss at this incredible new beauty mecca.
Chanel Brings A Beauty, Fragrance and Sunglass Concept Store to Vegas
The Exclusive Le Pearle de Chanel Collection
The limited-edition 9-piece Le Pearle de Chanel collection is sold only at this boutique, so while what happens in Vegas usually stays in Vegas, we suggest you take the line's ballet-inspired products in rosy and metallic tones (our faves are the lip palette and eye quad) and incorporate them into your daily makeup routine once you get home.
BoyBrick Sunglasses
The new BoyBrick sunglasses from the Spring/Summer '15 collection are our latest must-have shades. Rendered in an array of vivid color options, they inject a neutral ensemble with a pop of pizzazz.
Allure Sensuelle Fragrance
The boutique's dedicated fragrance room offers an incredible range of the house's scents, including the delightful and spicy Allure Sensuelle, only available abroad, online and in the Vegas store.
Le Rouge Coco Lipsticks
This new range of lipsticks premiered at the Vegas boutique and features a shade for every type of girl—no matter what her beauty personality.
Chanel Le Vernis Illusion Wall
The boutique's piece de resistance has to be the incredible nail wall featuring the CC logo made up entirely of Chanel Le Vernis lacquers. And we thought it was hard to choose a favorite shade before?