12 Pieces Of Sunny Citrine Jewelry To Brighten Up November Birthdays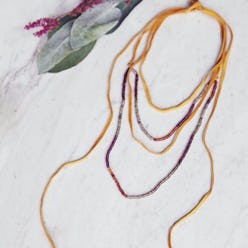 It's Scorpio season! And, now that November is here, it's time for a new birthstone to reign.
While the mystifying opal is the stone of the month for October, November birthdays get to choose from two: sunny citrine—quite the relief during this cold, gloomy month—and topaz. Being how cold it's been already, we're all about citrine's warming beauty.
Appearing in a range of pale yellows to darker oranges, citrine is sometimes referred to as the healing quartz. It's long been associated with vitality and good health, peace, and creativity. It's also believed to bring success to its owner, often worn or placed throughout workspaces or homes to bring good fortune and luck.
We rounded up the 12 coolest pieces of citrine jewelry—the perfect gifts for all the Scorpios (and all of the early Sagittarius folks, of course) in your life. A birthday present that doubles as a good luck charm? Who could ask for more?
Click through the gallery below to check out our favorite finds and check out the original article on Nylon.
Communion By Joy Smith, Enlightened Warrior $623, available at Local Eclectic.
Terrain, Raw Citrine Nugget Necklace, $68, available at Terrain.
Leah Alexandra, Arc Citrine Open Ring, $70, available at Leah Alexandra.
Katie Diamond, Bea Studs, $120, available at Katie Diamond.
Violet Fly, Citrine And Gold Sunshine Cuff, $32, available at Etsy.
Jane Taylor, Slim Baguette Bar Ring With Citrine Baguettes, $915, available at Jane Taylor.
Chan Luu, Citrine And 18K Goldplated Sterling Silver Drop Earrings, $72, available at Lord & Taylor.
Mystica, Raw Citrine Ring, $49, available at Etsy.
Ippolita, Lollipop 18K Gold Mini Pendant Necklace, $595, available at Ippolita.
Janna Conner Designs, Gold And Citrine Nugget Teardrop Earrings, $90, available at Max & Chloe.
Free People, Coastal Breeze Layered Necklace, $328, available at Free People.
Catherine Weitzman, Bezel Set Drop Earrings, $100, available at Catherine Weitzman.