Resale Therapy: Cashing In On Your Old Clothes Has Never Been Easier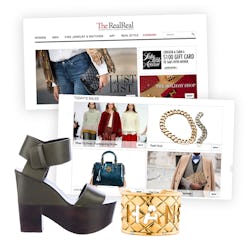 There is a new breed of resale superheroes that make consigning as effortless as picking up the Batphone. Long gone are the days of waiting out eBay bidding wars or trekking garbage bags to brick-and-mortars only to be met with disapproving glances and unfair splits. We're talking easy breezy here. With varying approaches, these e-tailers will have you freeing up coveted closet real estate and bulking up your bank account, lickety-split. Just don't expect a Caped Crusader to save you from reinvesting that hard-earned dough on the spiffy sites. After all, one woman's PS1 is another's Mansur Gavriel.
Vaunte
Why It Rocks: Browsing the homepage here is as if The Coveteur had a shopping cart to swoop in on all of its It Chicks' closets. But, just because the lens is turned on fashion's most savvy while they peddle their scraps, any stylish gal can also purge at her own listed price. The Process: Describe the goods. Snap a pic. Name a price. Vaunte reviews and uploads the info. Once your piece sells, they send a shipping label for you to snail mail it directly to the buyer. Cash flows into an online account that easily transfers to your bank. Bing, bang, boom. Your Cut: 85%
The Real Real
Why It Rocks: Along with Birkins and Blahniks, you can buy and sell fine jewelry and art, from Calder to Clemente. In case you need someone to hold your hand while you clean, an in-person pickup is available in 16 cities. The Process: If you're lucky enough to have a concierge come by your pad, he or she will personally scout what will sell best. Otherwise, they'll gift you a shipping label, you send them whatever your closet sheds, et voilà, most items move within three days. Your Cut: Up to 70%
Shop Hers
Why It Rocks: Upon login, users enter their measurements and style preferences to be matched with "Style Soulmates" who share sizes and purchase predilections. And if you're teetering about whether to unload or not, you can "flaunt" the questionable piece in your virtual closet for a bit, then flip a switch to sell when you're ready. The Process: Simply upload your photos and details, name the price, and once someone snatches it up, send it to Shop Hers where they handle the rest. For the VIP experience, their team handles the entire process after you fill out the requisite forms and hit the post office. Your Cut: 82% or 65% for VIP
Threadflip
Why It Rocks: You don't have to be a baller to list your leftovers: Threadflip tackles brands like Gap and Urban Outfitters alongside heavy hitters like 3.1 Phillip Lim and Prada. The Process: Either print a prepaid label, have it delivered to Threadflip and let them use their own elbow grease, or list it yourself and morph your closet into its own boutique. Your Cut: Up to 80%
Reissued
Why It Rocks: It's 100% vintage, in app format only. There's a tight approval process to sell, which means it's mostly top tastemakers whom you follow in a feed akin to Instagram. Here's an inkling of the caliber: The first sale was of Anjelica Huston's collection for Decades. The Process: Apply to sell (remember, they're picky!). Upload your items directly to your iPhone. Rally your social media peeps to generate followers. Your Cut: Since it's a marketplace, Reissued takes a small transactional fee.
Material Wrld
Why It Rocks: In lieu of moola, your castoffs earn you gift cards to ShopBop, Steven Alan, Bloomingdale's, and Saks. MW boasts a live calculator of what each piece will grant. For instance, an Alexander Wang blazer awards you anywhere from $20-$48. Out with the old and in with the new! The Process: In NYC, you can book a valet pickup, but for the rest of the US, throw your excess odds and ends in a box and call it a day (while simultaneously penning in a date for your next shopping spree). Your Cut: Dependent upon item.
Poshmark
Why It Rocks: Functioning a lot like Facebook, here you can connect with a community of closets of your choosing, which pop up in a daily feed. There's a diversity of goods spanning the fashion food chain from Brandy Melville to Helmut Lang. The site also hosts three themed "parties" per day, such as Chevron & Stripes, to align with your specific sartorial mood. The Process: It's smooth sailing here: Download the app, upload a pic (they even have Instagram-esque filters) and once it's bought, Poshmark provides you a shipping label to pop the item in your friendly neighborhood USPS blue bin. Your Cut: Name your price, ladies!